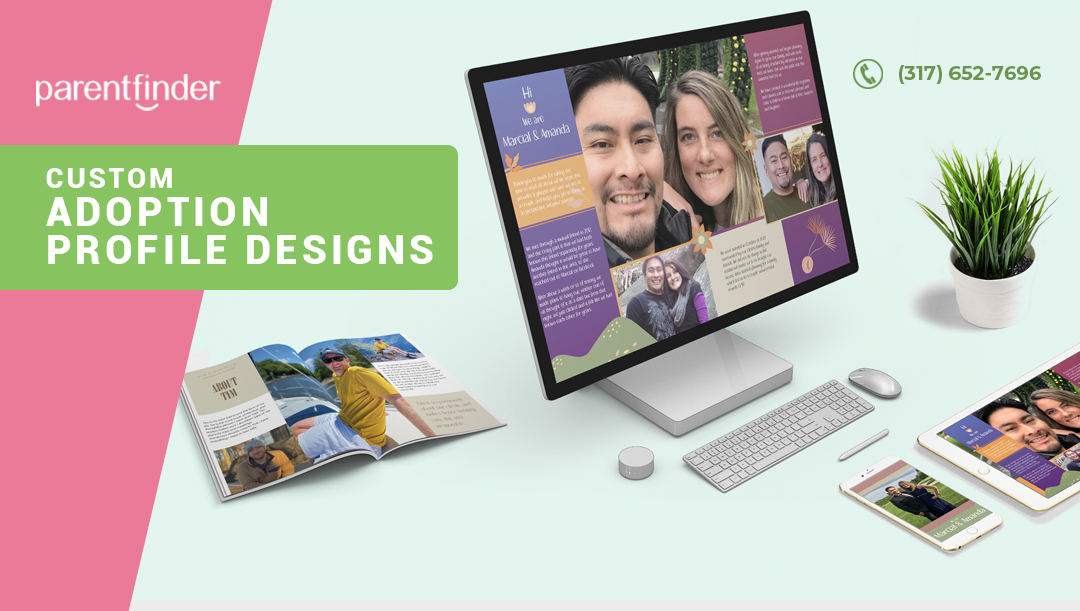 Custom Adoption Profile Designs
Custom Adoption Profile Designs
Your family is unique. Your adoption profile should be unique, too!
Since 2010, Parentfinder has created thousands of custom adoption profile designs! What's even more impressive is that 97% of those parents had a great experience. That makes us smile. Hopeful adoptive parents put their trust in us, and we respond by helping them create an amazing adoption profile design. Then, we share their adoption profile with birth moms across the country. 
Hopeful adoptive parents working with Parentfinder have the opportunity to receive a custom adoption profile book, a PDF version of their book, a custom adoption website, and a custom adoption video, all for a low cost. We provide flexibility, expert help and care, and industry knowledge that cannot be beat.
Some of the most respected adoption organizations trust us too. They send all of their parents to us because they know that we stand for quality and service. They know our services are flexible and cost-effective, and that we can help hopeful adoptive parents optimize their adoption experience. 
Hopeful adoptive parents benefit from our service because we are the preferred profile creation service for so many adoption organizations across the United States. Because we work with so many adoption organizations, we are able to keep our costs low.
But adoption agencies and adoption attorneys like more than just our custom adoption profile designs. They love the analytics tool kit, the adoption websites, and adoption videos that we create. They love how we feature their parents, and acknowledge that we are the largest online adoption profile network in the United States. And they love that Parentfinder helps their parents match and place faster than any other service. 
If you are a parent adopting independently or if you work with an adoption agency or attorney, we can help you too. We offer a variety of services beyond custom adoption profile designs to help hopeful adoptive parents along on their adoption journey—whether you are months in or just getting started. 
Call us, DM us, email us—we're happy to explain how we can help you! 
317-652-7696
Connect with us: 
Parentfinder LinkedIn | Follow Parentfinder on Instagram and Facebook